Giving Back: Xcel Energy at The Food Group, FMSC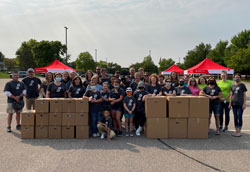 The pandemic did not hold Xcel Energy's spirited volunteers back for the 11th annual Day of Service. More than 1,450 volunteers came together and put good energy into action throughout Xcel Energy's Upper Midwest footprint on September 9 – 11.

Volunteers chose from more than 70 nonprofit projects spread across Michigan, Minnesota, North Dakota, South Dakota, and Wisconsin, including in-person projects and take-home activities. Here are just a few of the ways volunteers made a difference:
15,000 meals packed for families
10,000 pounds of produce sourced from local Latino farmers distributed
5,000 hygiene kits and snack packs assembled
Thousands of trees and pollinator plants planted
Xcel Energy's Day(s) of Service campaign provides an opportunity for employees, retirees, their family and friends and members of the public to support nonprofit organizations across a variety of focus areas in communities they all live and work in.
"While we accomplish a lot over a short period of time, it is our hope that the experience and connections made across these nonprofit projects are just a starting point," said Sam Holsen, Social Investments Team Lead. "There are so many ways people can support their community through volunteerism year-round."

In 2020, Xcel Energy contributed over 23,000 volunteer hours in support of over 400 nonprofits.
Share this post: