Let's meet a CVC Member: Tera Stoddard
Let's meet a CVC Member: Tera Stoddard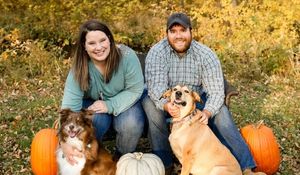 Name:  Tera Stoddard
Currently:  Communications Specialist, CHS Stewardship
Originally from:  Greenfield, IN (just outside of Indy)
Currently resides:  New Richmond, WI
CVC Member Since:  2018
CVC Committee Member:  Marketing & Communications (just started on the committee)
My First Volunteering Experience:  Writing cards of support for the elderly in a nursing home while in middle school, but I was involved in both 4H and Future Farmers of America (FFA) growing up and service projects were always part of our programs.  Also, growing up on a farm we were instilled with the idea of helping your neighbors or those in need.  It's who we are.
Favorite vacation spot:  Beach.  Give me the sand, water and waves (preferably somewhere warm).
Dogs or Cats:  Slightly dog leaning, but we have two dogs and one cat that rule our house, especially the last couple of years during the pandemic. 
My favorite thing about Minnesota/Wisconsin:  State parks, hiking and the water.   People laugh when I tell them how I like the low humidity here, but it's really nice.  If you've ever spent time down south where there is crazy heat + humidity—you'll know what I mean.
Thrill seeker:  I would love to sky dive, go bungee jumping or even ride in a hot air balloon.  I love heights and these are all on my bucket list.
Get to know Tera:  Tera grew up on a farm in Indiana and participated in both 4H and FFA.  She got her degree in Agricultural Communication from Purdue University—which was a natural fit for her.  Armed with the knowledge of the ag business and know-how to get her message across, she ended up in Washington D.C. working for a trade association, communicating how upcoming legislation could impact ag companies and farming communities she knew so well.  Although she has fond memories of living and working in D.C., she knew that both the big city and the work she was doing wasn't quite right for her.
"I realized quickly it would take years and years to see any real outcome from the  issues and policies I was communicating about." Not only did she want to get back to her smaller town roots, but as she stated, "I knew I could be doing work that would make a more immediate impact."  So, she applied for a position in CHS Stewardship, communicating about the ways that CHS and its employees give back – both financially and through volunteer efforts.  When she got the position and moved back to the Midwest, she knew she had found her home.
"I didn't even know that such a position could exist, to be honest," she joked. She joined a small yet mighty team at CHS that facilitates the company's stewardship efforts, from managing grant programs to organizing employee giving campaign and volunteer efforts.  "CHS and the CHS Foundation are dedicated to strengthening hometown communities and developing ag leaders for life. I am so lucky that the CHS giving priorities align so well with my personal and professional passions. I get to stay rooted in agriculture, communications and work with organizations I've always had an affinity for like 4-H and FFA." As is true with many careers in social responsibility, her job has her wearing many hats.  Also, the fact that CHS is a cooperative owned and run by their farmer members, really makes it a perfect fit for Tera.
Looking back at her start in stewardship at CHS, she does wish she could change one thing.  "I wish I had done more outside networking in the CSR space.  I'm finding out more and more, that our challenges don't exist in a vacuum.  There are so many great people that have similar roles at great Twin Cities organizations that I can learn from.  This is why I'm becoming more active in groups like CVC-TC."
We're happy about that too—and we know we can learn a lot from Tera as well.
Share this post: