Take 5: Five Reasons to join CVC-TC
Take 5: Five Reasons to join CVC-TC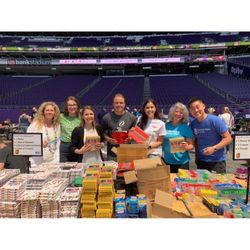 We're starting a new blog series where we'll be sharing some quick tips and takeaways in a quick, easy to read format. To kick off the blog series, we're sharing five reasons to become a CVC-TC member.
Starting us off, here are five reasons to become a CVC-TC member:
Networking. Maybe you're looking at implementing a new volunteer program or struggling with big ideas and a small team to make them happen. Trust us, we get it! When you join CVC-TC you join a group of professionals doing similar things in their organizations—from large and small companies across the Twin Cities. Make new connections and share a few things you've learned along the way too.
Professional development. Attend a mix of in person and virtual professional development sessions you can learn from. Past topics include pro-bono volunteerism, allyship in the workplace, virtual and community volunteerism and more.
Ideas you can implement. Maybe it's a conversation that sparks an idea or a professional development session that resonates with what you're implementing at your company. CVC-TC membership provides you access to ideas that can be implemented immediately.
Access to nonprofit partners. By becoming a corporate member, you get access to the services that organizations like  HandsOn Twin Cities, Greater Twin Cities United Way and Propel Nonprofits offer.  Plus, you can plug directly into connections and employee volunteer opportunities CVC-TC associate members making a difference in the Twin Cities community offer.
Fun! It's not all work and no play around here. There's plenty of fun had along the way whether it's volunteering together or celebrating our successes at the CVC-TC Annual Celebration!
Interested in becoming a member? Contact us today! 
Share this post: