Xcel Energy hosts 12th Annual Day of Service
For the second year in the annual event's history, Day of Service projects took place in all eight states the company serves. With more than 100 nonprofit projects available, there was no shortage of ways to give back to our communities. Back in-person for the first time since 2019, more than 1,200 volunteers came together and put good energy into action throughout Xcel Energy's Upper Midwest footprint on September 8 – 11.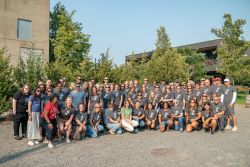 Day of Service volunteers' work included the following:
Packed 250,000 meals for families.
Assembled 2,300 hygiene kits.
Decorated 2,000 meal bags.
Planted over 500 trees and native plants.
Cleaned up and treated 5 acres of land.
Picked up 250 bags of trash.
Xcel Energy's Day(s) of Service campaign provides an opportunity for employees, retirees, their family and friends and members of the public to support nonprofit organizations across a variety of focus areas in communities they all live and work in. The hours and skills volunteers contribute during Day of Service improves the vitality of our communities by providing support nonprofit organizations may not otherwise receive. At Day of Service, participants volunteered an estimated 9,000 hours, which equals a $270,000 economic impact, according to Independent Sector's 2022 value of volunteer time.
Share this post: