MLK Day honors the life and work of Dr. Martin Luther King Jr. and serves to encourage all Americans to volunteer to improve their communities.
Together we can strengthen our communities, bridge divisions, address social problems, and move closer to Dr. King's vision of a beloved community.
There are an endless number of opportunities for everyone to find a way to make a difference in a meaningful and impactful way. Visit https://www.handsontwincities.org/mlkday2023 to discover how you can activate.
There will be a number of free events for you to take part in throughout the week hosted by HandsOn Twin Cities and our partners. Watch the calendar section of the website for upcoming details. Special thanks to our sponsors and partners - General Mills, Target, REM5, and The Woke Coach.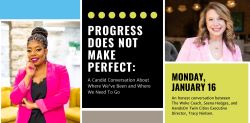 Share this post: