2023 Annual Celebration: Registration is now Open
Join us for the 2023 CVC-TC Annual Celebration, "Heroes through Service" on Thursday, May 11 from 3:00 – 6:00 p.m. at Mendakota Country Club in Mendota Heights.
The agenda will include:
Guest speaker Dianne Haulcy, President and CEO of The Family Partnership
Volunteer Fair
Recognition of "Heroes Through Service"
Great Food, Networking, and Happy Hour
This event is open to members and non-members (price: $35 for members/$55 for non-members; includes happy hour ticket). Register today – deadline is Sunday, April 30. (You will need to log in or create a profile to register for the event).
Annual Celebration: Sponsorships Still Available
As a sponsor of the CVC-TC Annual Celebration, you can reach influential leaders from Minnesota's philanthropic and nonprofit communities and support their work in promoting volunteerism. Sponsorship sign-up deadline is Monday, May 1.
Annual Celebration: Heroes through Service Submissions Needed
Is someone in your organization considered a "Hero through Service" for their initiatives and impact they make in the community? We want to recognize them at the 2023 Annual Celebration! This recognition opportunity is open to all corporate, associate, and partner organizations that are members of CVC-TC. You can recognize up to 2 individuals. All those recognized will receive a complimentary registration to the event! Click here to submit your recognition(s)! The deadline has been extended to Friday, April 14.
Wanted: Volunteering in Action Photos
To help the CVC-TC promote volunteerism and our great organization, we are looking for volunteering in action photos. These photos will be used during events like the Annual Celebration, on social media and in the volunteer newsletter. Send your photos to Julie Greene, CVC-TC board member at [email protected]. Please ensure you have the appropriate approvals for the CVC-TC to share these photos.
**Special ask: We need your volunteering in action photos for the Annual Celebration event. Please send photos no later than Friday, April 14.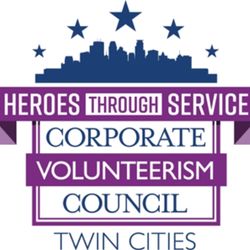 Share this post: