Celebrate Juneteenth 2023
Celebrate Juneteenth
Juneteenth is a federal holiday commemorating the emancipation of enslaved African Americans that originated in Galveston, Texas.
It has been celebrated annually on June 19 in various parts of the United States since 1865. It is also often observed for celebrating African American culture.
Explore the many ways you can celebrate right here in the Twin Cities at https://www.handsontwincities.org/juneteenth.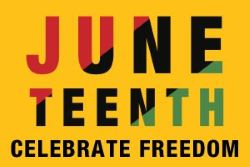 Share this post: