Volunteer Opportunities July 2023
Volunteer Opportunities abound!
Read more about a variety of opportunities...
Volunteer at The Food Group to fight local hunger and nourish the community. Opportunities include sorting and packing food and helping at food distributions. Options available for groups and individuals. Learn more here or contact Sean Hurdle with questions ([email protected])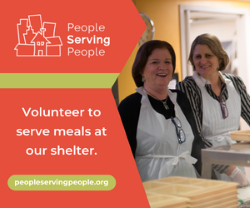 People Serving People is Minnesota's largest and most comprehensive emergency shelter for families and a dedicated leader in homelessness prevention. People Serving People exists to see families thrive and is committed to transformative change with a racial equity and trauma informed lens. By supporting the comprehensive services at People Serving People, you are helping children and families experiencing homelessness build a strong foundation for their long-term success. You can learn more about their crisis response, early childhood education, and systems change work at www.peopleservingpeople.org.Thank you for supporting People Serving People's vision of healed families and transformed communities.
We're currently looking for individuals and small groups (up to 6 people) to join us in serving meals to families in our dining hall for breakfast and lunch on weekdays, and delivering meals to families in their rooms throughout our central shelter for dinner, as well as on weekends. We also have opportunities for groups of up to four (4) to support Operations staff in keeping our building and meal program running smoothly, which are available in the morning or afternoon on weekdays. If you're interested in any of the above opportunities or want to learn more, please reach out at [email protected]. We hope to see you at the shelter soon!
Share this post: