Serve as an Event Support Volunteer for 9/11 Day
This September 11, serve as a Support Volunteer for the 9/11 Day of Service and Remembrance event.
HandsOn Twin Cities is seeking volunteers to fill various support roles for the 9/11 Day of Service and Remembrance event taking place in the Minneapolis/St. Paul metro. This event is one of many signature 9/11 Day projects being held in observance of the 22nd anniversary of 9/11. Other event locations include New York City, Atlanta, Boston, Chicago, Dallas, Los Angeles, Phoenix, St. Louis, San Francisco, etc.
Over 500 individuals are expected to gather to pack meals for local families at the 9/11 Day of Service Remembrance event. Event Support Volunteers will help orchestrate the event experience by welcoming participants, helping replenish meal ingredients, and more. Each 9/11, nearly 30 million Americans volunteer, donate to charities, and perform other good deeds to promote national unity and empathy in honor of the victims of 9/11 and those who rose in service in response to the attacks.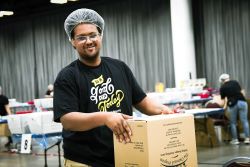 To learn more about the opportunities, contact Sheila Her at [email protected]
Share this post: