Volunteer Opportunities September 2023
Volunteer Opportunities abound!
Read more about a variety of opportunities...
Volunteer at The Food Group to fight local hunger and nourish the community. Opportunities include sorting and packing food and helping at food distributions. Options available for groups and individuals. Learn more here or contact Sean Hurdle with questions ([email protected])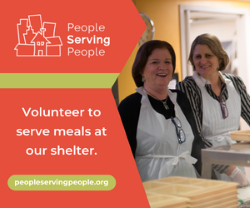 Are you a part of a group looking to get involved in your community? Consider volunteering at our shelter! We are seeking volunteer groups to serve breakfast, lunch, or dinner in our dining hall. Groups must be willing to commit to a weekly, bi-weekly, or monthly meal service shift. These shifts are two hours in length and run Monday thru Sunday. Up to six people can volunteer per shift. All volunteers must be 18+ or 13+ with a chaperone. Volunteers should be comfortable standing for extended periods of time and working in a slightly warm environment.
People Serving People is Minnesota's largest and most comprehensive emergency shelter for families and a dedicated leader in homelessness prevention. People Serving People exists to see families thrive and is committed to transformative change with a racial equity and trauma informed lens. By supporting the comprehensive services at People Serving People, you are helping children and families experiencing homelessness build a strong foundation for their long-term success. You can learn more about their crisis response, early childhood education, and systems change work at www.peopleservingpeople.org.
Share this post: