Second Harvest Heartland Seeks Volunteers for its Dish Gala
Dish is Second Harvest Heartland's premier gala, which plays a crucial role in our mission to end hunger.
The 20th annual event is planned for Saturday, October 14 at The Depot in Minneapolis.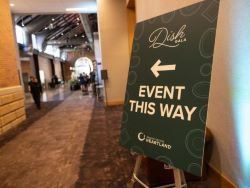 We invite you to be a special part of this memorable event by volunteering your time for one or more shifts. Volunteers at Dish will offer support in a variety of ways, from venue setup and silent auction organization to guest engagement and merchandise packing.
We hope you'll consider joining Second Harvest Heartland staff and the community for this exciting evening!
Visit Volunteer Central for more information and to sign up.
Share this post: